NOTE: Due to Rowan University's unprecedented shift to remote learning this semester, our course syllabus must be amended to align with our new circumstances. I have made these adjustments with crossouts and red fonts below.
Basic needs & self care
According to a 2017 poll, 48% of Rowan University students have experienced food insecurity in the past year. That is to say, hunger, homelessness, financial concerns, and other struggles with basic needs are a growing problem among college students at Rowan and across the country. This statement is intended to help disarm stigma or shame—we all have basic needs, and the faculty and administration at Rowan want to ensure that basic needs are being met so that our students can learn and succeed (in fact, one of Rowan's four Strategic Pillars is affordability). Relatedly, college life can be busy, overwhelming, and stressful. When your body is run down and you're suffering from anxiety or distress, it can be difficult or impossible to be an effective student while balancing work, friends, family life, and more.
From Writing Arts: The First Year Writing Program has a helpful Student Resource page that provides an overview of all the services available at Rowan.
Any student who faces challenges securing their food or housing and believes this may affect their performance in the course is urged to contact one of the many health and safety resources offered at Rowan. In addition to these resources, you might also find these links useful: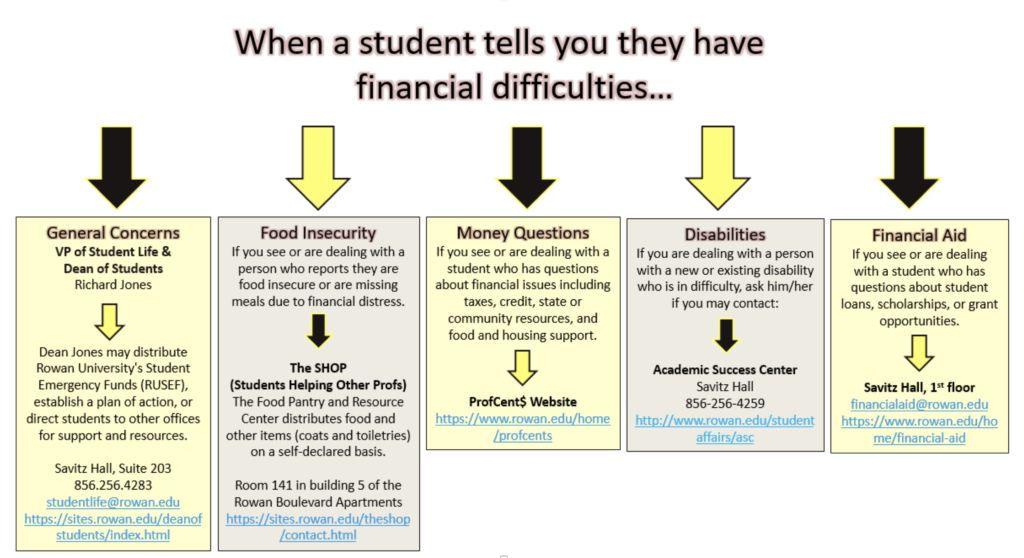 Attendance and late work
Attendance policies as defined below in the original syllabus still apply for the first half of the semester (prior to spring break). For the second half of the semester (post-spring break), I will be counting the work you do asynchronously for this course as your participation. There is no designated time you must "attend," though there will be optional opportunities for direct interactions with me for live/synchronous chatting, conferencing, Q&A, and other help. I do hope you will avail yourself of some opportunities for live interactions, even if they aren't required. If the need for new kinds of accommodations arises now that we are holding classes remotely, please communicate this to me!
A healthy balance of flexibility and accountability are crucial in professional contexts, including the college classroom. We will strive for such a balance in this course. For example: in Unit Two, significant progress should be made on your annotations by the beginning of each class meeting; you should have read the text more than once and marked areas for discussion. That said, these annotations don't need to be perfect. You should come prepared to revise and develop your annotations as we discuss these dense texts as a large group, incorporating ideas from everyone into your marks, marginalia, notes, and comments. However, all projects should be submitted by the day and time they are due, and via the specified mode (print, Google Drive, WordPress, etc.).
As you might expect, regular attendance is essential to doing well in this course. As with all courses in the Writing Arts department, you may not pass the class if you miss more than six class periods—including excused and unexcused absences. I have been told that students misunderstand this point, so to be clear: an excused absence does not mean your absence is forgiven. It means that you can make up work due that day. Further, excused absences (including religious observances, official university activities, illness, bereavement, or inclement weather) require official or verifiable documentation. Predictable, university-sanctioned absences such as team travel should be cleared with me early in the semester.
If you must be absent, it is your responsibility to find out what you missed by consulting this course site, or if necessary, contacting another student. At this time, if you still have questions about the class material, you may email me or schedule an appointment to meet.
E-mail
If you do email me, here is something to keep in mind: professional emails are direct and to the point. They communicate one to two pieces of information and ask specific rather than general questions. Also, please note that while I appreciate emails explaining absences, I may not respond to them. For example, consider the following email: "Dear Professor, I will be absent today because I am feeling ill. Will I miss anything?" This email gives me some important information—the student will be absent due to illness. However, the question "Will I miss anything?" is inconsiderate and unhelpfully general. It is inconsiderate because, from an instructor's point of view, there is always something missed by not attending class. It is also general because the answer to this question is so extensive that it would be more efficient to meet in person to discuss it rather than respond to it via email.
On the other hand, if your problem is technical — you can't post on your blog or access readings in Google Drive (likely in a course such as this) — please take the time to include additional details and screenshots. Tell me about your system, settings, what you've tried, what you don't have access to, or your specific limitations. Trying to troubleshoot a problem one question per email is frustrating for both of us and not a good use of our time.
On that note, complex and sensitive issues — such as those that may require one or more of the resources mentioned in the basic needs & self care section — should be resolved outside of class and face-to-face whenever possible. If an issue occurs, please let me know as soon as it is reasonable, especially before it becomes more difficult to manage.
Let me say again that your academic success in this course and throughout your career depends heavily on your personal health and well-being. Everyday stress can be significantly compounded by unexpected life changes outside the classroom including unemployment, illness, or grief. Although these policies are meant to be equitable and efficient, they should not preclude you from reaching out to me about any difficulties that impact your potential in this course.
Childcare
Many students have responsibilities for children in their lives, as (step-)parent, older siblings, etc. If your childcare needs ever come into conflict with the course schedule, please don't feel as though you need to miss class. As a parent myself, I certainly understand that sometimes plans fall through. If this happens you are welcome to being a child to class with you. I just ask that you bring materials to keep them busy, being especially mindful of your classmates and the learning environment. If you have any questions about this, feel free to contact me.
Professionalism and classroom behavior
I strive to cultivate an educational environment in our classroom that is inclusive, honest, democratic, and congruent with Rowan's classroom behavior policy. In my experience, such an environment can take time to build, but it must begin with an assumed sense of respect and sensitivity, and especially toward those who do not act, speak, or look like ourselves. Toward that end, we will use preferred names and otherwise respect the communicative needs of each person based on aspects of their social identity as quickly as possible. Moreover, participation in this environment does not mean simply attending and being available; it means working actively, collaboratively, responsively, responsibly, thoughtfully, and constructively to one another, and generally being a resource for our collective intellectual development.
Learning in a lab
From the University [link]: The use of laptop or notebook microcomputers and other mobile electronic devices for classroom activities is allowed at the discretion of the instructor or in the case of a documented disability. The use of such electronic devices should not be a distraction to other students or the instructor. Students are expected to use electronic devices only as part of ongoing class activities. If an instructor believes the use of electronic devices is detrimental to the learning environment or gives any student an unfair advantage, then the instructor may prohibit their use at any time. Also, the use of any device for purposes of audio or video recording may occur only with the prior approval of the instructor.
This class takes place via a lab format, meaning that every time we meet we will be surrounded by screens and all the distractions that come with them. For this reason, I request that if you have a smartphone that you limit your attention to it. This means not only putting your phone in silent mode when you're in class, but turning off your notifications so your attention isn't constantly compromised.
This will be additionally important since most days I will be directing you to complete various tasks at our computers. For complex reasons, some of you will be better equipped to handle these tasks than others. Although a lab requires direct and technical instruction, don't forget that you are also responsible for your learning. A small amount of class time will be spent on lecture and demonstration; however, I expect you to come to class having engaged with the material thoughtfully while also being flexible and critical in troubleshooting unexpected problems. While I am eager to help everyone here, I can only be in one place at a time. If you find yourself waiting for my assistance in the lab or stuck at home, consider asking someone nearby if they can help or by Googling the problem or using resources like YouTube or LinkedIn Learning. Your patience is also critical in times of challenges. Like many other learning contexts, iteration and failure are instrumental to becoming more competent with technologies; users must be both tenacious and flexible.
Accessibility
From the University [link]: Your academic success is important. If you have a documented disability that may have an impact upon your work in this class, please contact me. Students must provide documentation of their disability to the Academic Success Center in order to receive official University services and accommodations. The Academic Success Center can be reached at 856-256-4234. The Center is located on the 3rd floor of Savitz Hall. The staff is available to answer questions regarding accommodations or assist you in your pursuit of accommodations. We look forward to working with you to meet your learning goals.
I assume that all of us learn in different ways, and that the organization of any course will accommodate each student differently. For example, you may prefer to process information by speaking and listening, so that some of the information on this course site is difficult to absorb. Or you might prefer to annotate printed texts over digital ones. Please talk to me as soon as you can about your individual learning needs and how this course can best accommodate them. If you do not have a documented disability, remember that other support services, including the Writing Center, are available to all students.
If you have a documented disability that may have an impact upon your work in this class, please contact me. Students must provide documentation of their disability to the Academic Success Center in order to receive official University services and accommodations.The Academic Success Center can be reached at 856-256-4234. The Center is located on the 3rd floor of Savitz Hall. The staff is available to answer questions regarding accommodations or assist you in your pursuit of accommodations. They look forward to working with you to meet your learning goals.
Grades
The course will unfold via three two units. Each unit is worth 100 points for a total of 300 possible points in the course. The first unit is worth 100 points and second is worth 150. Details are above (see "Assignment" links nested in the menus). Your grades are posted on Blackboard as soon as possible after I assess your work.
In terms of my responses, you should expect my feedback to be constructive and kind. I will respond primarily in two ways: according to the learning and assessment goals articulated in the unit assignment, and as a reader who is interacting with the text you've produced. Feedback on your work is one of the primary available spaces for individual instruction, so please see me during office hours or make an appointment if you'd like to discuss your work!
Letter grades will be based on the following final point values:
| | | | |
| --- | --- | --- | --- |
| A | 94-100 | C+ | 77-79.9 |
| A- | 90-93.9 | C | 74-76.9 |
| B+ | 87-89.9 | C- | 70-73.9 |
| B | 84-86.9 | D | 65-69.9 |
| B- | 80-83.9 | F | 64.9 or less |
Pass/No Credit option
In response to the unique remote learning arrangement necessitated by the coronavirus pandemic, Rowan has offered a Pass/No Credit (P/NC) option for all undergraduate courses.
From the University [link]:

The Pass/No Credit Grading Option for Spring 2020 is available for all undergraduate and graduate courses ending between April 20 and May 8, 2020 (except the medical schools and PhD programs).

Instructors will assign letter grades as they normally do. After letter grades are posted, students will have until June 15, 2020, to decide to replace a passing letter grade with P (Pass) or replace a failing grade with NC (No Credit). Credits are earned for a P grade, but not for the NC grade; neither has an effect on GPA. For undergraduate courses, a D- or higher is a passing grade. Passing grades for graduate courses are determined by the program coordinator and have been communicated to students.

Timeline:
May 15 – Final grades due from faculty
May 15 – Form goes live for students to choose P/NC (link available 5/15)
June 15 – Deadline for confirmation of earned grade/selection of P/NC
Required Texts and Materials
I go to great lengths to make sure you do not ever have to purchase texts for this course; as a result, all of our texts will be made available through a variety of different spaces (Google Drive, links, etc.). As a result, you will need to develop systems of organization that will help you keep track of it all so that you come to class prepared. If you are having trouble accessing, annotating, or sharing these texts at any point in the semester, please do not hesitate to get in touch with me.
Incompletes
The grade of INC may be awarded only at the end of a term, when all but a minor portion of the coursework has been satisfactorily completed. The grade of INC is not to be awarded in place of a failing grade or when you are expected to repeat the course; in such a case, a grade other than INC must be assigned. You should make arrangements with me to receive an incomplete grade before the end of the term.
Digital spaces and privacy
In this course, you will be asked to create accounts and generate content that will occasionally circulate openly on the web. Specifically, you will be using the following:
Hypothes.is. You will create an account that will allow you to publicly and privately annotate web texts. To use this account, you will also need to install an extension in your Chrome browser. Most of our conversations will be managed through private groups, though we may collectively choose to add annotations to public web texts. [TOS]
Rowan Google Drive. I have created a dedicated shared folder [last name, first name + WRT] for you to submit your drafts, homework, and annotations if you plan to read digitally. While this folder will technically be private, please be aware that I will only have access to the content within it. If you complete assignments but do not put them in the shared folder, I cannot see them. [TOS]
WordPress. Several of your fact-checks will be posted as blog entries on your own space. If you had me in Intro to Writing Arts and want to use that same blog you are more than welcome; alternatively, you may create a new site. [TOS]
For a variety of excellent reasons, you may feel uneasy about being identified with/by that content. In that case, you're encouraged to take steps to ensure relative anonymity for your coursework, while still ensuring a valuable experience. These steps include: using screen names, disabling location services on mobile devices, and using decoy or throwaway accounts on digital platforms. All work created for the course is required to remain published until you've received your final grade. Once final grades are submitted, you're free to permanently delete anything you've created for the course. I'm happy to further discuss reservations with you individually or during class discussion.
Technology
I encourage you to bring to class any devices that will benefit your learning and composing throughout the course, including your own laptop. That said, I hope you will develop and practice a mindful workflow that allows you to integrate your smart technologies while being as present as possible in class activities. This is not easy and so I may on occasion assist individuals or the class as a whole in this practice, depending on how well attention is being managed.
Further, you can expect technology to fail in plenty of ways throughout the semester. To avoid disaster, whenever applicable please be sure to save all of your materials in three ways: (1) to your device's hard drive, (2) to a physical external drive, and (3) to a cloud-based storage system (i.e. Google Drive). As someone who has used this system for nearly 10 years I can attest to its effectiveness: I have never lost, deleted, or suffered a loss from a corrupted file.
Academic integrity
All non-original content that appears in your work should be documented. Any phrases or passages used that are not in your own words absolutely must be put in quotation marks. Please let me know if you have questions about your citation work in a particular assignment or writing context. That said, I encourage a conscientious application of Fair Use for Education principles. As we are writing for hybrid academic and public contexts, I expect citation to be consistent and visually/functionally appropriate for the medium in which borrowed and remixed work appears. Please be in touch if you have any questions about this.
Further, I expect all compositions submitted for course credit to be the work of the student(s) who turned in the work. Per Rowan University policy, all academic integrity violations — no matter the level or sanction — will be reported to the Office of the Provost.
The Department of Writing Arts does not allow students to turn in the same writing assignment for more than one class. Students must receive express permission of their instructor to submit writing or a substantial part of a written text previously submitted to another class. Not doing so is considered academic dishonesty and, following the policies laid out by Rowan, may result in an F for that assignment.
Rowan Success Network
The Rowan Success Network powered by Starfish® is designed to make it easier for you to connect with the resources you need to be successful at Rowan. Throughout the term, you may receive emails from the Rowan Success Network team (Starfish®) regarding your academic performance. Please pay attention to these emails and consider taking the recommended actions. Utilize the scheduling tools to make appointments at your convenience (i.e. Tutoring, Advising, Financial Aid, etc.). Additional information about RSN may be found at www.rowan.edu/rsn.
The Writing Center
For support in any stage of the composing process, please visit the Writing Center, located in Campbell Library, room 131. For hours and to book an appointment, visit their website.